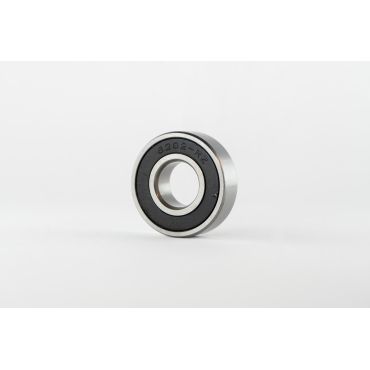 Low noise electric motor grade bearings for shaft sizes from 10mm to 30mm
See product table below for dimensions and technical drawings
See Products Variants below for standard noise grade options
These electric motor grade ball bearings are individually tested to EMQ2 rating for very low noise or low vibration applications. Various radial play groups can be supplied but the most commonly stocked are CN (standard) radial play and C3 (looser) radial play. We also stock noise tested smaller EZO bearings which are suitable for electric motors use.
These EMQ2 radial ball bearings are designed primarily for radial loads but will also withstand thrust or axial loads in both directions. They have a thrust load capacity of 25% to 50% of the bearing's static radial load rating depending on the bearing series (6000, 6200 or 6300). These popular metric low noise ball bearings are manufactured from SAE52100 (100Cr6) chrome steel. For lower speed applications that are not noise or vibration sensitive, we recommend using standard popular metric bearings (see Products Variants below).
Chrome steel popular metric bearings, with a steel retainer and a suitable lubricant, can be used at temperatures of 120°C constant or up to 150°C intermittent. Above these temperatures, the load capacity of chrome steel is reduced. These bearings are not suitable for use in corrosive environments as the steel is not corrosion resistant. The standard cage or retainer is a two-piece steel ribbon type.
These EMQ2 bearings are usually supplied with grease lubrication but shielded bearings can be lubricated with oil for low speed, low friction applications. Thanks to our in-house relubrication facility, whether shielded or sealed, these bearings can be offered with customer specified oils, greases or dry lubricants.
Click on INFO in the rows below to display technical drawings of the bearings with load and speed data. Please note that the maximum loads and speeds are used in theoretical life calculations. It is recommended to use bearings at significantly less than the maximum load and speed ratings to ensure reasonable bearing life.