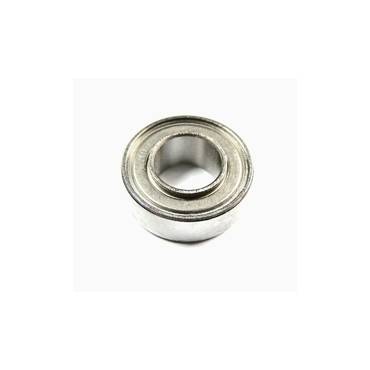 Stainless steel miniature bearings with extended inner ring for shaft sizes from 0.0469" to 0.3125"
See product table below for dimensions and technical drawings
See Products Variants below for flanged options
These stainless steel miniature bearings have an inner ring that is wider than the outer ring by 0.0312" (0.0156" on each side). These bearings are easier to mount with the wider inner ring eliminating the need for spacers or washers. Extended inner ring miniature bearings are also available with a flange on the outer ring. See Products Variants below for more details.
Stainless steel bearings, with a stainless steel retainer and a suitable high temperature lubricant, can be used at temperatures of 250°C constant or up to 300°C intermittent. Above these temperatures, the load capacity of stainless steel is reduced so we recommend full ceramic bearings for use over 300°C. These bearings are suitable for use in mildly corrosive environments as the steel is corrosion resistant but it is affected by seawater and stronger acids or alkalis.
These shielded bearings are generally pre-lubricated with grease but can also be supplied with instrument oil for low torque applications or completely dry for very low speed applications where very low rotational resistance is required. Thanks to our in-house lubrication facility, our stainless steel miniature bearings can be relubricated according to customer requirements.
Click on INFO in the rows below to display technical drawings of the extended inner ring bearings with load and speed data. The load ratings shown are for AISI-440C stainless steel bearings. Load ratings are higher for EZO KS440 bearings. Please note that the maximum loads and speeds are used in theoretical life calculations. It is recommended to use bearings at significantly less than the maximum load and speed ratings to ensure reasonable bearing life.